Georgia is the northern-most Caucasus country, located on the quarter slip of land nuzzled between the Black Sea and the Caspian Sea. The first civilization on this land was founded 1.8 million years ago, and the country has been developing since then. Georgia's location between Asia and Europe has helped this beautiful country to create and to move from the Soviet regime to become a remarkable success. It was part of the Soviet Union for years, but gained independence in 1991.
Based on scientific researches, Georgia is the origin country of wine, so it is a trendy tourist destination. It is a country well known for its hospitality, which contributes to being one of the favorable choices for investors from all over the world. 
Compared to peer cities like Yerevan, Baku, Kyiv, Riga, or Bucharest, Tbilisi's real estate market is the cheapest. These statistics consider affordability, measuring how many years it will take on an average salary to buy real estate. Tbilisi came second to Athens, but it is worth mentioning that Greece's average salary is four times higher than the average salary in Georgia. This peer comparison shows the actual reason why investors are interested in Tbilisi real estate.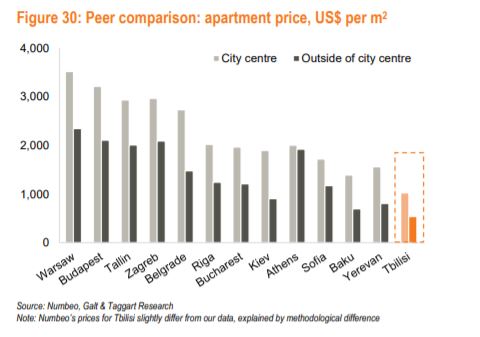 Tbilisi real estate market statistics
According to statistics provided by the public register of Georgia, its capital, Tbilisi, is leading in the number of transactions on real estate. Despite COVID-19's heavy impact, real estate market is on a steady recovery path. Even though the annual statistics dropped by 53.6% compared to 2019, real estate sales in Tbilisi roughly make up 40% of total sales in Georgia. 
It is essential to mention the reasons behind the surges and drops in real estate statistics. COVID-19 has hit most businesses, affected the lives of millions, and did tremendous damage to Tbilisi real estate. But, strict regulations and proper management of pandemics by the Georgian government and healthcare sector have set Tbilisi's real estate market on a steady positive recovery path. It is interesting to mention that COVID-19 did not affect the price in the suburbs compared to the price in the central areas. 
To understand how cheap real estate in Tbilisi is exactly, below you can find actual prices in March 2020 per square meter in different areas:
| Vake | Mtatsminda | Saburtalo | Isani | Gldani | Samgori |
| --- | --- | --- | --- | --- | --- |
| | | | | | |
Based on statistics, the most popular places in Tbilisi are three main areas: Vake & Vera, Ortachala & Mtatsminda, and Saburtalo.
Vake & Vera is a trendy area that has been under construction for years now. Here you can see a historical center mixed with skyscrapers and old architectural buildings. These two areas serve as origin places for noble Georgian families. Thus, it held the title of most demanded area for the most extended amount of time. It is no surprise that the price per square meter is the highest in Vake. It is home to the most popular restaurants, cafés, hotels, boutiques, and luxury brand – name shops.
Ortachala & Mtatsminda encompass what local people call Old Tbilisi. Its historic architecture filled with eye-pleasing geometric figures serves as an irresistible attraction for tourists. This area is well known for the most expensive restaurants and bars, ancient churches, parks, and modern buildings. The highest international visitor density is concentrated precisely here. Tourists tend to visit old Tbilisi the most as this part of the city conserves the culture and traditions of ancestors, customs, food, and music. 
Saburtalo is a relatively new area, which makes it the most popular place for renting among locals. There are multiple metro stations, bus lanes to ensure fast transportation. Saburtalo also contains three universities, malls, and everything one might need at the hand's reach. The majority of buildings are modern, compared to other districts. Though the price range for renting is still relatively cheaper. You can find apartments with two bedrooms from 1000 GEL. It is very reasonable compared to rental costs in other areas besides the suburbs. For more details click on where to buy real estate in Tbilisi?
Tbilisi real estate market before the pandemic
In terms of finished hotels, 2019 was the best year for Tbilisi. An enormous number of hotels were built and opened. It resulted in almost doubling the number of actual property sales and accommodation stock. 
If this trend were still going, it would increase the number of rooms by 200% in the following years. So that in 2020-2022, it could have caused oversupply. 
In 2018, real estate accounted for 11.4% of total GDP, making it the third-biggest sector in the Georgian economy. Due to recently adopted regulations and the scarcity of land in the central districts, developers shifted focus to suburban areas. 
Suburban areas, Isani, Gldani, Samgori, and Dighomi, make up 4 out of 5 most selling residential properties. 
Because of this trend we mentioned above, in the third quarter of 2019, suburban districts' market increased to 56.1% of total sales compared to 52.0%.
Since Tbilisi is a small city, getting from the suburbs to urban areas usually takes less than 30 minutes. This notable detail is further supporting suburban apartments' sales. 
Before the pandemic, investors flooded the country, buying real estate and turning it into Airbnb apartments. Statistics show that Airbnb accounted for a 17% yield of total rooms rented per month.
Tbilisi real estate market during the pandemic
Just like other cities that caught our eye for real estate potential, the pandemic affected Tbilisi as well. Apartment sales plummeted by 37.6% due to lockdown in March 2020. A significant part of the population lost jobs, so the economic situation in the country was trembling.
A sharp drop of 18% YTD in the real estate rent index can be observed due to less demand from students and non-existent tourism. 
The biggest fall was during the second lockdown in April 2020, with an 80% reduction in real estate transactions. Real estate rents decreased by 10.7% y/y in the second quarter of 2020 and were expected to drop further. The local currency took the biggest hit. Annual inflation rose to 5% though it was forecasted to adjust and lower to 3%.
Besides, admirable and courageous steps taken by the government and health care sector resulted in a steady increase from September of 14.4% YoY. 
Fortunately, in 2021, COVID-19 pandemic is officially under control. The reason is that vaccination rates are growing, and the supply of vaccine shots is increasing simultaneously.  For more statistics read Tbilisi Residential Market Monthly Watch By TBC
In addition, multiple regulations have decreased or changed for good. For example, the curfew moved from 21:00 to 23:00. Also, restaurants and bars open fully on weekdays. But, on Saturday and Sunday, people can only use terraces and outside areas.
The healthcare sector no longer fears the unknown the way they used to. People have learned how to adapt to a new reality and start living again, with the help of vaccinations and following the necessary regulations. The government has complete control of the COVID-19 situation, preparing the country for the high waves of tourists for the summer.
Post pandemic Tbilisi real estate market
No one can truly mark the end of the pandemic, but it is safe to say we are at the beginning of an end. Investors who seized the moment of decline are already celebrating an increase in their asset values. The reason is that borders are opening again for tourists and prices are returning to normal. 
Cushman and Wakefield's projects estimate the average city occupancy rate across the sectors of 30-35% in Tbilisi, a sharp rise from the observed 10% during the pandemic time. 
If there ever existed a perfect time for investment, it is now. The growth in real estate prices is imminent. Both residential and commercial apartment rates increase while the economy stabilizes. 
To understand what drives this growth, let us delve into the real estate market drivers for residential and commercial buildings in Tbilisi:
Tourists and hospitality in Georgia
Georgia heavily depends on tourism as a country. Prior to the pandemic, it was crowned as the new Berlin for its freedom in terms of doing business, low cost of living, and, of course, for its technological scene.
Immigrants and investors 
Every fourth sale of an apartment was accounted to foreigners in past years. Mostly, investors flip houses and set them up for Airbnb rentals.
Outdated housing in Tbilisi
With only 24% built post-1991, most of the real estate in Tbilisi dates back to the1960 and the 1990s. A lot of houses are in critical condition and ready to be replaced with modern buildings.
Challenges when buying a property in Tbilisi
For Georgians, sale and purchase of real estate in Tbilisi is a once in a lifetime opportunity. Because of that, the acquisition of existing property is usually slow. 
Georgians tend to consult every single family member and friend to decide to buy  or sell real estate. Since the listings don't update as often as they should be, buying or renting online is also a challenging experience. One of the problems people face is that the apartment you finally choose after hours of search is most likely already sold. 
Without a local real estate agent to find a property in Tbilisi, it could be challenging for foreigners to find proper real estate. Also, it is close to impossible to avoid "tourist tax" and pay double the amount without solid Georgian connections. Foreclosed properties can also be tricky since neighbors feel responsible for defending neighbors. 
These reasons make it essential to hire professional real estate agents to guide your investment to profitable grounds. Besides these challenges, doing business in Georgia is easy. 
Investing in Georgia is a successful decision for those seeking a stable source of income. First, taxes are unbelievably low. In addition, you can open a bank account, register a company, or change property ownership in a significantly short time. There are plenty of opportunities to be found in housing, retail, or office spaces as well. 
The real estate in Tbilisi is fascinating for investors for another reason as well. It has a small supply but a high demand. The average yield from rent is 12%, but the number can rise significantly with proper management.
Urban areas are mostly filled and thus are not very affordable for locals. Nevertheless, vacant apartments do not require long-term settlement and are available for short periods as well. That is because flat owners expect conditions to be improved, to raise the rent prices.
Isani is the leading rental, making up 10.2% of the total because of the low price. It is followed by Krtsanisi and then Vake, as Vake remains the most demanded area for people who have the funds.
As a conclusion 
The real estate market in Tbilisi is still struggling because of COVID-19 related changes. But, the forecast is optimistic, and the statistics show a gradual improvement. While the prices are still adjusting to ordinary, investors can seize the opportunity and buy properties now.
If you are interested in investing in real estate in Tbilisi, make sure to follow our blog and reach out to Regus Estate experts. If you would like to explore more information read: Is Tbilisi real estate market growing [numbers and facts]
Now! Have a look at Our project in the downtown of Tbilisi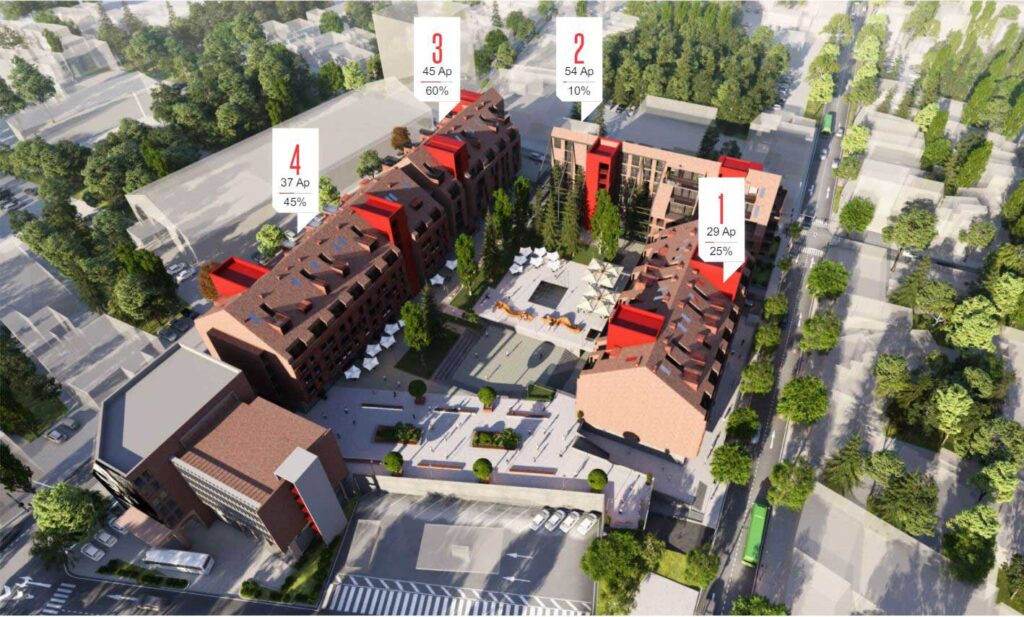 The layout of hotel type apartments in nonstandard, sizes starts at 40 square meters. The architecture incorporates mansard style roofs. You will be able to make use of a smart door lock and get keyless access to the apartment. At the Tbilisi Downtown Complex, safety standards are at a high level. The complex will be equipped with modern fire safety and video surveillance systems.
Inhabitants and hotel guests of Tbilisi Downtown Complex will be able to make use of the comfortable parking lot and fitness center.