Why to buy in this project?
Where is Downtown complex located?
Downtown complex is located 200 meters away from Avlabari metro station and unites residential apartments, hotel, commercial and co-working spaces and most importantly, 5100 m2 community space. Downtown consists of 4 residential blocks, on the first floor restaurants, bars, cafés, and stores will be set up, catering to every taste. The services of 120-room hotel will be available to the owners and guests of the apartments as well.
In just 2 minutes of walking there is access to public transport with Avlabari metro station and many bus lines that can take you anywhere in the city.
The layout of hotel type apartments in nonstandard, sizes start from 40 square meters. The architecture incorporates mansard style roofs. You will be able to make use of smart door lock and get keyless access to the apartment. At Tbilisi Downtown Complex safety standards are at a high level – complex will be equipped with modern fire safety and video surveillance systems. Inhabitants and hotel guests of Tbilisi Downtown Complex will be able to make use of comfortable parking lot and fitness center. Apartment at Tbilisi Downtown Complex is a long-term investment. It is a future hottest spot of the city, where trendiest stores and food facilities will be located, numerous events will be hosted periodically, ensuring that Downtown Complex will be constantly crowded with tourists and locals, making owning an apartment in Downtown Complex for personal or investment purposes is a wise investment. The construction of Downtown Complex will be finished in the December, 2021. Additional 6 months will be needed to complete green areas and square in the complex.
Tbilisian traditional design in the heart of Tbilisi
Downtown complex architecture combines tradition and modernity. Inspired by the old Tbilisian yards, its architecture unites minimalist aesthetic, edgy shapes and mansard type roofs.

Cafes

Restaurants

Green space
Fitness Club
Green space

Parking
Shopping center
Multifunctional Residential Tower
Demand for residential apartments in Tbilisi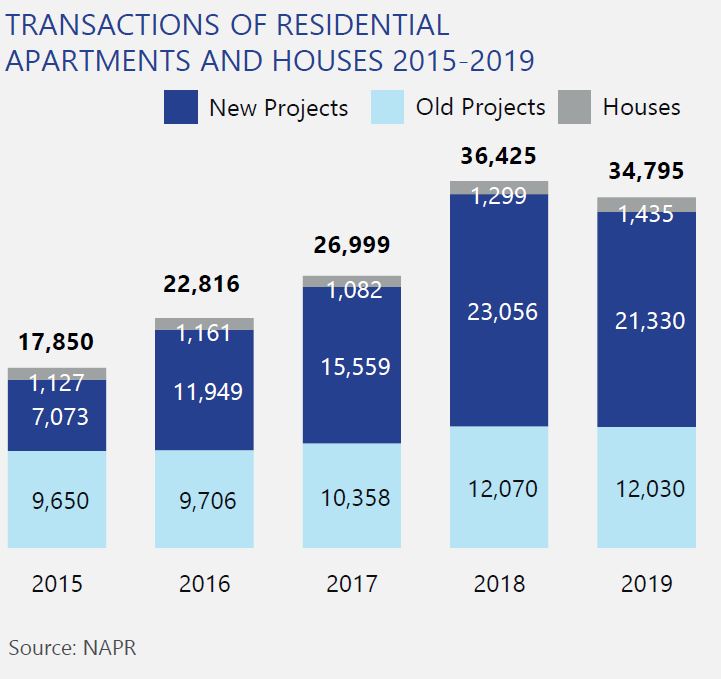 In 2019, the number of residential transactions in Tbilisi slightly declined (4% YoY) and amounted to 34,795 units. The bulk apartments (61%) was recorded by newly built apartments, mostly due to the large number of recently completed projects.
Since 2015, the demand for residential apartments has been characterized by an increasing trend, aside from 2019, when new regulations for mortgage lending were adopted. As a result of these regulations, as well as the currency fluctuation, newly built flat transactions dropped by almost 8%, while the number of old flat sales decreased insignificantly by 0.3%. Standing with a modest 1,435 transactions, the number of residential house sales is increasing steadily. The figure grew by 10% in contrast with the previous year.
The market share of sales transactions (total value of transactions) of residential residentials amounted to USD 1.6 billion, reflecting an insignificant decrease of 2.7% when compared to 2018, while the figure is twice higher in contrast with the same data of 2015.
The largest portion (USD 1.0 billion) was aggregated by newly built apartments, while old flat transactions and residential house sales accumulated USD 484 million and USD 96 million, respectively.
Since 2015, the average unit size has been steadily maintained at around 60 sq m, aside from 2019, when the figure declined by 10% compared to the previous year and amounted to 54 sq m.
The number of foreigners who buy residential properties in Tbilisi is increasing over years. From 2015 to 2018, a significant growth was recorded in this regard. Russia, Iran and Europe were the main source markets and the interest from Israeli citizens rising as well. Year 2019 marked a decline in buyers from foreign citizens.
Black Sea Tower in Batumi is an 40-story building with complete indoor services. The high-quality facade with reliable thermal insulation and modern glazing provides comfort in the apartments around the year.
In addition to the spacious green courtyard, equipped with playgrounds and recreation areas, residents and guests of the complex have access to another common space, the open veranda. There is a swimming pool, a jacuzzi, a summer cinema and a cafe-bar. Video surveillance monitors the territory, and all services are available around-the-clock.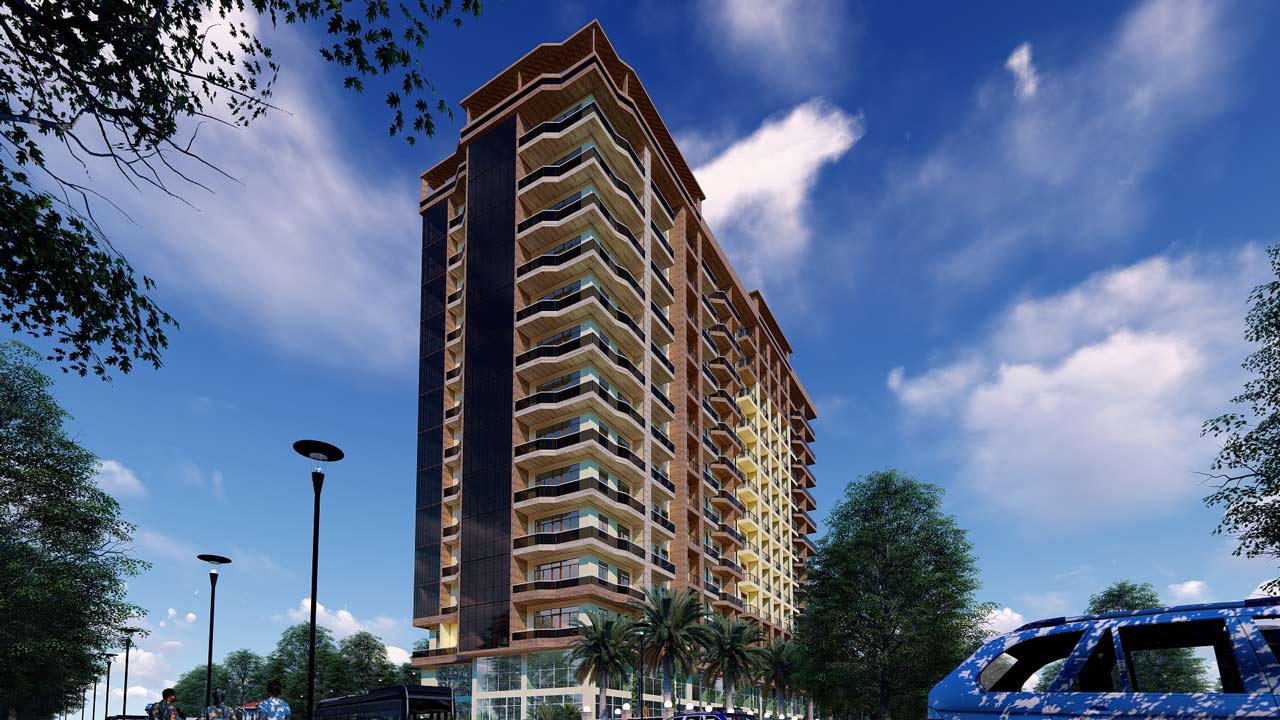 Thebes tower Gonio is a modern building with 15 residential floors. The first two floors are reserved for offices and a retail area. The facade cladding uses natural travertine and the building is decorated with spacious open balconies. The enclosed landscaped courtyard will be the ideal place to relax. It will accommodate a spacious swimming pools outdoor and indoor. Furthermore, there will be landscaped greenery as well as a designated play area for children. An underground parking area of ​​2500 m2 is provided while there are also parking booths in the yard.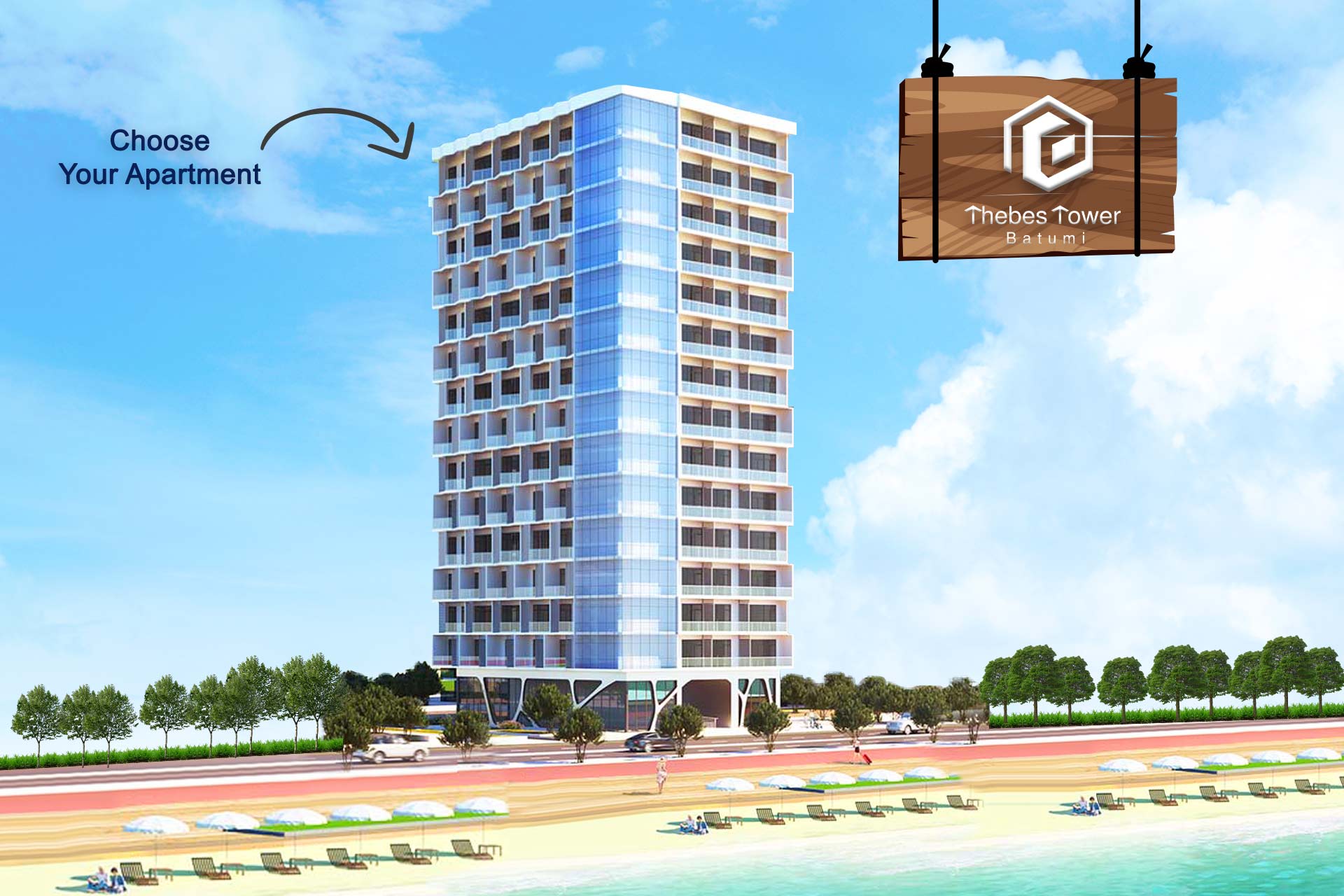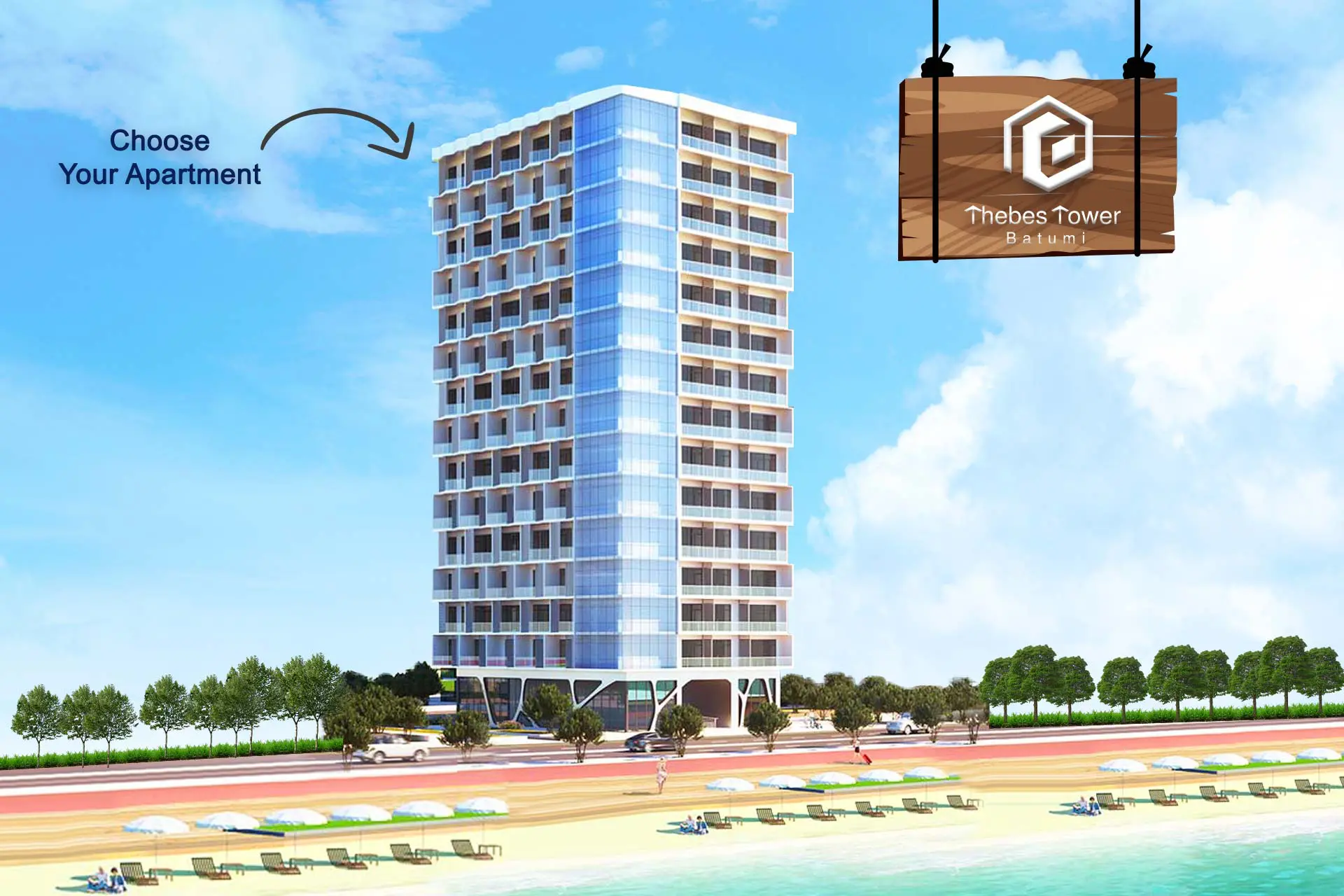 The tower is located on the first line of the Black Sea coast. That means you will have a direct sea view without any barriers.
Thebes Tower Batumi is built in compliance with EU international quality standards and new construction regulations in Georgia from 2019. In Thebes Tower Batumi you will have all of the facilities that will make your stay in Batumi unforgettable.
Property Management:
Management company, Geo Property Management guarantees an 8% yearly return. 
The tower will be completed in the 3rd quarter of 2022.